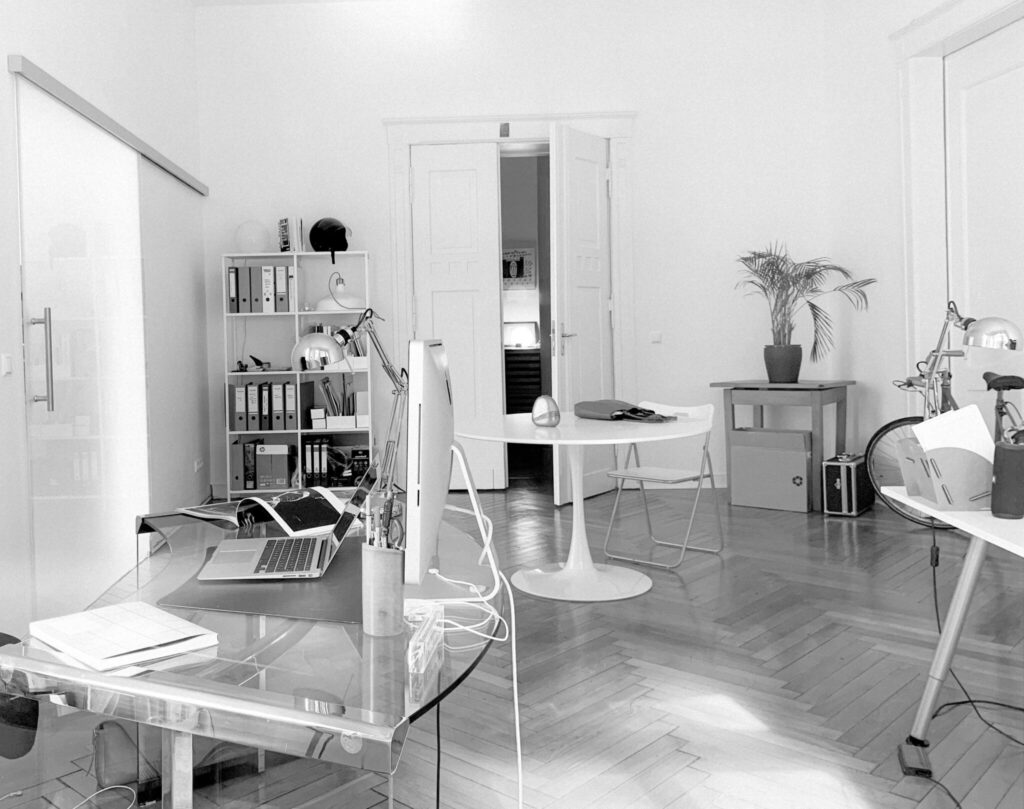 Fauves is an agency for the performing arts founded by producers and agents Julia Danila and Léa Chalmont. With a focus on international distribution, it aims at servicing the neoclassical and contemporary dance and performance field with an expanded network, strategic planning and international touring. We support artists with a critical, engaging and sensitised perspective on art, life and contemporary issues.
Currently the agency represents the works of the Dance On Ensemble, cie. toula limnaios, Vera Tussing, Al Badil, May Zarhy, Kamea Dance Company, Hamburger Kammerballett and Ballett X Schwerin.
Fauves also offers custom-made consulting services in the field of funding, cultural policy and international distribution to emerging choreographers, companies and ensembles.
Léa Chalmont is an agent for neoclassical and contemporary dance with an experience of more than 15 years in the field. Previously at Delta Danse (2016 – 2023), a distribution agency based in France, she developed the German branch representing a dozen international companies in Northern and Eastern Europe, amongst them Carte Blanche, Ultima Vez, Ballets Jazz Montréal, Ballet de Genève, Compagnie Jean-Claude Gallotta, IT Dansa, Malandain Ballet Biarritz and Alonzo King LINES Ballet.
In 2008 she founded French-language cultural magazine Berlin Poche. After 7 years and 74 issues as editor-in-chief, she returned to her first love – dance – to write as a French-language dance critic for various magazines and blogs: Danser Magazine, Resmusica, Viereinhalbsaetze, Dansesaveclaplume, CCCdanse.
Originally trained in ballet at the Conservatoire de Danse de Tours in France from age 5 to 18 she moved to Germany in 2000 to pursue German Studies and Media at the University of Hamburg.
Naturally crossing paths with Julia Danila in the world of dance, they co-founded FAUVES Agency in 2023. Their affinity for and compatibility in the many forms of dance provided its foundation.
Julia Danila is an agent with more than 15 years of experience in the field of contemporary dance and performance art.
Previously founder and co-director of Danila-Freitag Agency, she represented international artists such as the Dance On Ensemble, Ant Hampton, Jess Curtis/ Gravity, Sergiu Matis and Bara Kolenc. From 2018 – 2020 she worked as Artistic Producer for tanzmainz/ Staatstheater Mainz producing the work of Sharon Eyal/ Soul Chain, Roy Assaf and Taneli Törmä.
As long-time collaborator she produced the works of Jess Curtis/ Gravity, e.g. the duet The Way You Look (at me) Tonight with Claire Cunningham, performance-based exhibition re: von der Poesie im Recht and Guilty guilty guilty: towards a feminist criminology (curated by Sonja Lau) and Bara Kolenc's Metamorphosis series.
She is the recipient of fellowships from Robert Bosch Foundation, Goethe Institute and Dachverband Tanz. In 2012 she co-curated The Hesitating Body – a dance and theory forum at Deutsches Hygiene-Museum Dresden featuring Mala Kline, Jeremy Wade, Kathrin Busch and Bojana Kunst.
She holds a Master in European Cultures from University College London (UCL).